we are an ARTISINAL, JAMAICAN-AMERICAN brand creating lightly processed, plant-based foods that support the gut microbiome
Our proprietary plant-based dough centers fiber, including prebiotics, and resistant starches into the most crunchy, vegan crackers - a nourishing base for those who are interested in creating a balanced gut microbiome to support their health and wellness.
acne, eczema, psoriasis. Look to your microbiome
The gut microbiome is an ecosystem of trillions of microbes - both good and bad - that live in your gut. When you eat fermented foods, fiber and resistant starches the good microbes multiply and help with the proper working of nutrient absorption, cognition, gene expression, hormone balance, metabolism and immunity. Our vegan crackers support the gut microbiome. Highly processed foods and sugar do not, and a breakdown in one or more of these functions can result. Acne, eczema and psoriasis are immune mediated. Download our FREE gut microbiome tips in the pop up.
tired all the time, check out the health of your gut microbiome.
The gut microbiome consists of some wonderful worker bee-like microbes, so to speak. They process the food you eat to aid in digestion and absorption. One of those processed foods, glucose. is the fuel source that the mitochondria (the "energy center" in the cells) uses to help generate energy. A balanced gut microbiome which results from eating a variety of plants and fermented foods, guarantees an effective working mitochondria. Our vegan crackers support a balanced gut microbes, so they can be effective at what they do.
Download our pop up below for FREE tips to strengthen your gut microbiome.
BALANCE YOUR GUT microbiome and watch the weight fall off
You tried every diet known to man, exercised frequently to exhaustion, but the weight just wouldn't budge. Your gut microbiome is telling you that you are in a dysbiotic state. Dysbiosis is the state of the gut when it's unbalanced - more bad ones than good. To correct that, you need to eat more fiber, fermented foods and resistant starches. Our vegan crackers contain a diversity of plants that's beneficial to a balanced gut microbiome.
Download our FREE tips to balance your gut microbiome by clicking on the pop up..
your immune system shares the same real estate as your gut microbiome.
You've often heard the maxim "70% of your immune system resides in your gut." In fact they share the same wall, kind of a fence of sorts. What affects the gut can also affect the immune system. That's why keeping your gut microbiome balanced with a diversity of plants, fermented foods and resistant starches can keep immunomodulation at bay. Our vegan crackers can help with that. Download our FREE tips pop up on how to improve your gut microbiome.
THE "first" brain upstairs is driving and the "second" one downstairs, the gut microbiome, is riding shotgun.
You suffer from debilitating migraines, can't regulate your mood, experience brain fog and generally have feelings of anxiety and depression. One place to look for remedy is the gut microbiome as there is a symbiotic relationship between the brain and the gut microbiome. In fact, 90% of the feel-good neurotransmitter, serotonin and 50% of dopamine are produced in the gut before delivery to the brain to make you feel after an exhilarating run, for example. Our vegan crackers contain a variety of plants to support the gut microbiome. Download the FREE tips from our pop up on how to support your gut microbiome.
RECOMMENDED BY A WIDE CROSS-SECTION OF PROFESSIONALS
These crackers are amazing. My family devoured an entire package in a day! The ingredients are all plant-based and high in fiber. As a gastroenterologist who focuses on food as medicine, I'm always looking for gut-friendly health promoting pantry foods like these.
Dr. Robynne Chutkan
Integrative Gastroenterologist, Microbiome expert and Bestselling author, "Gutbliss"
Slim and Trim's crackers are really something else. The selection of ingredients, combination of fresh and dried herbs and veggies, and the cauliflower base, makes one exceptional cracker. I've been a fan of these products for years and they just keep getting better - in both flavor and nutrition.
Elly Truesdell
Partner, Almanac Insights, Former Global Director Local Brands & Product Innovation, Whole Foods Market
I enjoyed the Cauliflower Cracker Classic 2 Ways; with a sharp cheddar cheese, sliced apple and hummus between Zoom meetings. The crunchy wholesome nuttiness of the cracker made Slim & Trim Snacks an excellent quick lunch. Great nutrition, flavor and value.
Roxanne Neilson
Minority Business Development Agency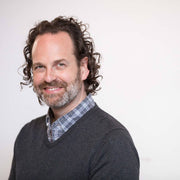 Like a lot of people, I put on some extra pounds during the coronavirus pandemic. That was all fun and games til I got a GERD diagnosis! My holistic doctor suggested a paleo diet would work well for me to reduce inflammation and heal the reflux without pharmaceuticals. The problem with a lot of gluten-free packaged products is that they contain other junk I don't want. These crackers are just as tasty if not more so than the homemade bread I got used to baking during the pandemic! Nutrient dense and made with quality ingredients, I especially like that I can load them up with a variety of toppings (even sardines dripping in olive oil) and they don't crumble apart when eating. The dill pickle flavor is amazing with goat cheese and capers!
Eric Stoneberg
Yoga & Meditation Teacher, New York City
My husband can't keep his hands off them and he, being Dutch, is a connoisseur of all baked bread-like things. He readily agreed, with a mere smear of hummus, one cracker was surprisingly filling. We both agree that these crackers have a uniquely satisfying texture and taste.
Riva Greenberg
https://diabetesstories.com/
We received the samples yesterday, thank you. I tried them out, and they are very good. I definitely think our customers will be interested in these crackers.
Dan Jay
"LET FOOD BE THY MEDICINE AND LET MEDICINE BE THY FOOD."

Hippocrates
CHECK OUT WHAT PEOPLE ARE SAYING
All my life I hated cauliflower. I was hesitant to taste the cauliflower crackers made by Slim and Trim Snacks. To my surprise, I was blown away at how DELICIOUS they tasted.
Marlene
I absolutely love the taste of these crackers. They are not overly dry and have a GREAT TASTE.
Elaine
With an INCREDIBLE TEXTURE AND FLAVOR, these snacks are fantastic served with dips, and crumbled on salads, soups, stews, and stir-fries.
Tess
Upon opening the package you will notice a hint of savory flavor. On first bite the TASTE COMES THROUGH BEAUTIFULLY WITHOUT OVERPOWERING THE PALATE thus leaving room for the flavor of different toppings.  Similarly, there is a wonderful balance in texture, salt level and weight where the crackers are substantial, but not overly filling.  I also enjoyed the toppings which added to the crunch. There is a wonderful aftertaste of herbs and spices along with a smooth texture. They are most satisfying, and frankly amazing!
Svetlana
Exceptionally GOOD TASTE and an even better crunch.
Travis
Love them! Absolutely LOVE THE CAULIFLOWER CRACKERS. You can pair them with your choice of spread or eat by themselves. They definitely make a great snack.
Lynn
EXCELLENT SNACK! Slim and Trim Snacks' cauliflower crackers are an excellent snack for even the staunchest hater of cauliflower. I can't STAND the white vegetable on its own, but something about those crackers with a side of hummus make them impossible to put down.
Jordan
Never loved cauliflower before these crackers. I have never been a lover of cauliflower. It looked so bland and seemed tasteless. Slim and Trim Snacks' cauliflower, however, changed all that. Not only is it a healthier way of snacking, but it is also QUITE TASTY. My go-to dip for these crackers is guacamole... totally divine. Give it a try, you won't be disappointed. And don't be surprised if it gets addictive.
Paulette
"I love them, and I am so glad you made them. Having been on a paleo diet for about six weeks now, they're really opening up options that I didn't have before. My 11-year-old loves them too. (No, he's not on a Paleo diet) His current favorite combination is your crackers with cream cheese, lox, green onion! "
Elizabeth
As a borderline diabetic, I generally do not eat crackers, but Slim and Trim's cauliflower crackers are the exception. They contain all plants, so they don't raise your blood sugar levels, and the delicious combination of flavors from the herbs and spices make them irresistible.
Cj
I love the savory taste, healthy ingredients, low sodium and carbs. The packaging is so cute and the story inspiring.
Diane
I've never been a "cracker person," but am now hooked on these cauliflower ones. They transcend the usual and should really be in a new food category. Tasty and easy to digest, they make the perfect late night snack with a slice of cheese or avocado.
Lenny
These crackers are delicious. I love the fact that they're healthy too! It's indulgent without the guilt of feeling that I'm not eating healthy!
Annie
Delicious snack that pairs well with any topping or meal.
Mickey
"When I first tried the Classic Cauliflower Crackers I said, wow these are really good and crispy!. Even though you can spread avocado on the crackers they are still tasty by themselves.Then I went onto the Dill Pickle Cauliflower Crackers and teamed it with guacamole and it was just divine.I truly recommend this product not only for its tastiness but also its health benefits."
Tori
"With an incredible texture and flavor, these snacks are fantastic served with dips, crumbled on salads, soups, stews, and stir-fries."
"The Blender Girl"
"They are really tasty!"
"Splendid Spoon"
I just had my first cracker today and it's so refreshing and tasty! Not to mention, healthy! I will certainly enjoy it.
Dr. Sandra Comrie-Smith
Slim and Trim crackers have a great, light, soft, taste and deliciously pair well with soups and as a bread substitute for a sandwich. This is how my family, including my seven year old picky eater, enjoy these crackers. They are easy to digest and do not have the after-taste and sometimes smell other cauliflower crackers I've tried have. I ordered more boxes and plan on having these crackers as a healthy staple snack option in my pantry.
Helen
I had some of the "Slim and Trim" "Dill Pickle" and "Plain" cauliflower crackers and I am so pleased to say they are very delicious. I never knew cauliflower could have a taste, let alone become such a tasty snack.
Marjorie
These crackers are really good and a great snack to get nutrients in if you're someone who is on the go.
Akilah
They are really great! They taste like a refreshing salad.
Laurie Ariola
Use these testimonials to share what customers are saying about your products and your brand.
Customer name
Use these testimonials to share what customers are saying about your products and your brand.
Customer name
Use these testimonials to share what customers are saying about your products and your brand.
Customer name