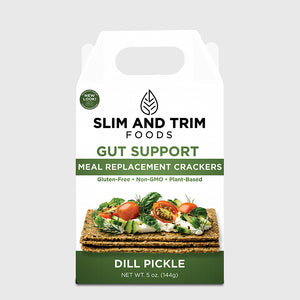 YOU SAVE 20% - Monthly Subscription
If you want a custom pack when purchasing, in the note section, be sure to specify which number of each product you want.
Chicory root, celery, dill weed, cauliflower.
Texture is light and flavor is "cheesy" even though there is no cheese..
A crispy, delicious, raw, vegan alternative to bread that is loaded with protein, dietary fiber, essential fats and minerals as well as prebiotics to feed your beneficial gut bacteria.
Product Features
Organic, Plant-based, Grain-Free, Keto Friendly, Glut-Free, Raw, Lectine-Free, Sugar-Free, Vegan, Non-gmo,Pre-biotics, Enzymes.
Our Dill Pickle cauliflower cracker is formulated from a proprietary vegetable, nuts and seeds dough/dry mix and dehydrated at a low temperature to maintain its beneficial heat-sensitive plant enzymes.

Extra care is taken to source non-gmo and gluten free nuts and seeds as well as include the prebiotic inulin, the undigestible oligosaccharide found in chicory root, which feeds the good gut bacteria helping them to proliferate and strengthen the immune system.

The magnesium found in the dill weed helps with many of the body's biochemical functions including increased energy and the micromineral, sulphur, commonly refered to as the "beauty mineral", helps to give the skin glow.
Product Benefits
Gut support, energy, glowing skin.

Experience the benefits of our functional meal replacement cauliflower crackers enhanced with the prebiotic inulin to support good gut health.

Each cracker is nutrient dense enough to form the core of a nourishing and calorie-light meal, and its expertly formulated ingredients help to boost immunity, promote weight loss, increase energy, aid in proper digestion and facilitate glowing skin.

The highly absorbable, non-gmo, gluten-free and lectin-free almond and flaxseed meal are sourced from the most reputable purveyors of organic plant based foods. They are then combined with herbs and spices and the prebiotic, inulin and made into a proprietary nut/seed/vegetable dough which is fashioned into crackers and dried through a low-temperature dehydration process..
Ingredients
Organic Cauliflower, Organic Non-gmo and Gluten-free Almond Meal, Organic, Non-gmo Golden Flaxseed Meal, Dill Weed, Celery, Nutritional Yeast, Granulated Onion Powder, Fresh Onion, Granulated Garlic Powder, Fresh Garlic, Chicory Root (Inulin) Fresh Lemon juice, Black Sea salt, Toasted Sesame Seeds and Almond Slivers as topping.
Nutritional Facts